Are you going through a separation, divorce or relationship breakdown?
This is likely to be a painful situation as it is one of life's most difficult experiences, one which you are probably not prepared for.
You may be experiencing emotions such as a feeling of loss and possibly anger and depression. You may well find it difficult facing the future on your own. You will not be the only one in this situation, so don't try to go through this alone.
This is where the Family Support Centre can help with its group seminars, which will guide you and the group members through a journey of recovery.
How can I find help and healing for the hurt of separation or divorce?
Link up with our Moving On support group. It's a place where you'll find caring people who understand the issues you face. The leaders of sessions will know from experience what you are going through and want to help.
You'll gain access to valuable resources to help you deal with the pain of the past and look forward to rebuilding your life.
Linda and Bernie
The groups are organised and run by Linda and Bernie.
Get in Touch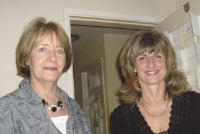 'Having both personally experienced the trauma of a divorce, our aim is to encourage people, via a course of DVDs, to work through and address their own issues within a small group environment.'
Stress and Anxiety
Are you suffering from short term or occasional mental distress and do not feel it serious enough to seek professional help?
Details
Pregnancy related issues
Talking with someone who isn't involved emotionally with your situation, in a confidential environment, can provide you with the support you need.
Details
Relationship Issues
Life can be difficult sometimes and relationships become strained.
Details